Going to nowhere

interdisciplinary practice
Our daily relationship with the city's soundscape is accompanied by a constant shifting of attentiveness – much is heard, but not all is listened to. Attentive listening is what allows us to feel our acoustic environment better and discover what has always been just beside us. Applying the same to visual or olfactory experiences opens up the possibility of observing, as if through a microscope, a completely different layer of the city.
We came together to explore and experience the environment we inhabit in a way we have not experienced before – by focusing on detailed explorations of auditory and visual sensations. Starting from the geographical centre of Vilnius, we walked in different directions of the city, listening to and observing the environment we were in, as well as how and when it changes. In this attentive visual and auditory observation of the different urban layers, we compared them, observed their movement and the counterpoint of their constituent elements.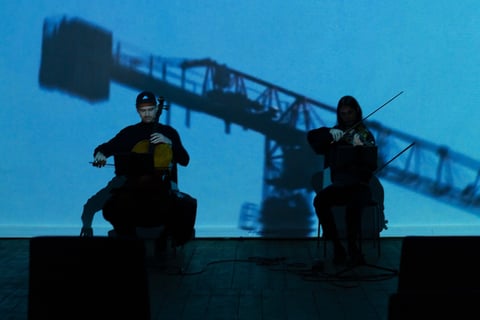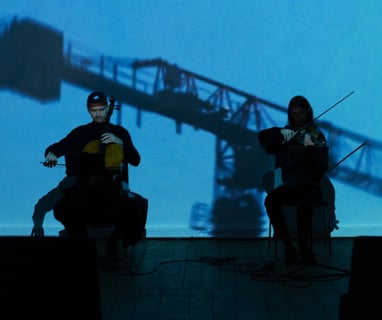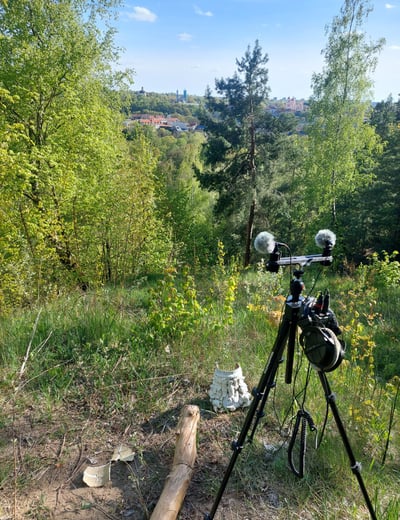 The practice 'Going to Nowhere' is an experiential research of the Vilnius city with accompanying works of different genres reflecting on the practices being made. The practice consists of sound walks, mapping, route making, field recording, video, photo recording, textual reflections.
The first phase of the research covered the west and east sides of the city, starting from the geographical centre of Vilnius - the White Bridge. The distance equates to approximately 5km or one hour of walking. To the west the team members walked to the Pilkakalnis outcrop (54°41'05.1 "N 25°13'27.4 "E), to the east to the Sun Cemetery (54°41'40.3 "N 25°18'46.2 "E).
The analysis of the walk data shows a wide variety of route choices by the participants and a fairly high frequency of acoustically or visually prominent objects being passed. In other words, although the choice of paths varies, certain objects appear on the route anyway. Following this idea, two parts of the musical score were created. The score functions like a map of the city, a set of motifs to be performed freely by one's own choice; like flaneuring, they can lead to a different place each time. The two parts, performed on violin and cello, work independently, but create a soundscape interwoven with different textures – always similar, but constantly changing.
Following the same directions, video footage was captured, which became a visual relief of the music during the live performance.
The two parts of musical piece were recorded and released as an EP: